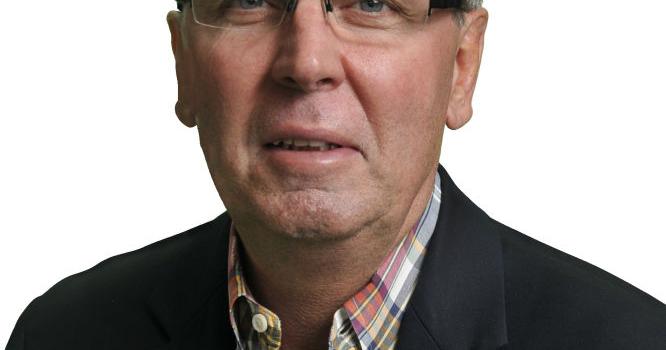 Column: Witness the great purge of 2021 T-shirts | Opinion
T-shirts are to a person what graffiti is to a building wall.
These are the bumper stickers that we choose to wear on certain days. They are symbols of accomplishment and participation. T-shirts tell strangers about our teams and our affinities.
But they also take up a lot of drawer space.
Packing and unpacking a two week trip made me think of the need for "Marie Kondo" my t-shirt drawers.
For those who are not part of the organizing community, she is a young Japanese entrepreneur specializing in decluttering the home and workspace. The question for me was which shirts would survive the great t-shirt purge of 2021.
• • •
Throw in over a dozen years of cycling jerseys. Each organized race rewards participants with a shirt, even if you don't finish.
They come from Wichita Falls, Pauls Valley, Duncan, Norman, Edmond, Oklahoma City, Muenster, Texas, Tishomingo, Durant and Ardmore. There are even a few without towns, only drawings of cyclists.
Add these blood donation shirts to the stack. They add up, and it wasn't until a few donations ago that I thought it was easy to turn down another shirt offer.
Ditto for United Way Solidarity Day and campaign shirts. Surely someone who needs a shirt will wear them with as much pride as I do.
• • •
Softball jerseys go back to the drawer.
There was the year a bank hired me as a young player, then the Mixed Church League where we didn't win much, and then the 1998 Sunday Late Night C League.
Midway Deli's mighty McKinley Dads won it all, outliving young players who felt the need to soak up between games. (We usually lost the first game but won the nightcap because we didn't have a nightcap, unless you were counting the coffee.)
Save my daughters' home business bakery shirts, family reunions, and my Daily Oklahoman, Transcript, and Oklahoma Daily days. This student newspaper shirt identifies the wearer as a "staph member". We thought we were so smart in college.
Hold on to the OU 2000 national championship jersey where the Sooners went undefeated. That reminds me. We could use a new trophy and a shirt.
Throw away the college fraternity shirt and that Boyers Fitness muscle tank top (who are we kidding?).
• • •
I hold on to some sailing shirts, neighborhood keepsakes, my Loveworks and hospital volunteers shirts, and a special pink tie-dye that says "thank you for the last night."
Another said, "Our father is a star" with the handprints of my three children. It happened when a TV station flew me to Chicago for a program on the weirdness of stay-at-home dads.
Also keep those shirts that looked nifty at the time: A Farmer's Market with the slogan "Give Peas a Chance". One from a cafe: "No bad press. »My favorite:« Normand: only close to normal in the dictionary.